Heather Lang: Thank you so much, Michael, for agreeing to an interview on your brilliant translation of The Popol Vuh, the ancient Mayan creation epic, as translated from the K'iche'. I've long been familiar with your poetry, so I was unsurprised to find that even the language in the introduction of the book is stunningly poetic. You begin, "Somewhere in a highland cloud forest in the middle 1500s, near the place where the continents of the Americans hinge upon their mountainous spine, a story was written down."
You tell us that, by then, the "story was already many centuries old – thousands of years, in fact – and it was etched into the heart of the scribe or scribes who wrote it." The Mayan creation epic, which dates back to at least 200 BCE, was passed down orally and was more-than-carefully guarded, and understandably so due to the catastrophic book burnings performed by early Spanish missionaries.
If you had to explain The Popol Vuh to folks who had never heard of this work in two, maybe three sentences, how would you go, or how have you gone, about that?
Michael Bazzett: I usually say it has echoes of Genesis, Gilgamesh, and the Odyssey in it, while remaining resolutely its own thing. It is the great myth of the Americas: you've got a transcendent creation story, an epic journey by hero-twins, a raucous confrontation with the lords of death… …and then our heroes turn into the sun & moon so the first day can finally dawn, and Time, as we know it, can begin.
HL: Michael, you are a tenaciously committed poet, translator, and educator. In your introduction, you share with your readers that, about a decade ago, you yearned to have your students read The Popol Vuh alongside Beowulf or the Odyssey, for example, but only scholarly translations were available. Therefore, you took on the project of producing a translation that is more sonically representative of, if I may, yourself. I was told that you took a six-month sabbatical to work on this masterpiece, a translation that allows the lyrical nature of the work to sing from the pages.
As an educator myself, one who is teaching World Literature II this term, I'm longing to know whether or not you've been able to incorporate this dream into your classroom yet, or if this is still a work in progress. What did those discussions or essay assignments, for example, look like? Against which texts from the global literary cannon did you end up juxtaposing this text, and how have your students responded? If you have yet to incorporate The Popol Vuh into your classroom, what's the first lecture, discussion, activity, or assignment you have in mind?
MB: Believe it or not, the project actually stemmed, originally, from a year-long sabbatical all the way back in 2007-8. That six-month leave was in the spring of 2012, and it was, alas, unpaid. I'd become a little obsessed at that point. My school also supported me by sending me down to the Mayan highlands of Guatemala & Chiapas, where I was able to hear plenty of K'iche' being spoken. It's been a ten-year journey, and I'm very grateful for all the support I've received along the way.
Given that span of time, I'm incredibly excited to finally be teaching it, which I'm doing this fall. The plan is to read it back to back with Stephen Mitchell's translation of Gilgamesh, given that both texts center around hero twins and involve epic confrontations with death. With its rivers of blood writhing with scorpions, Xibalba is a marvelously vivid underworld. We start in about two weeks, and I'm sure I'll have plenty to say then.
HL: Your translation of The Popol Vuh is a superb demonstration of literary translation, and the book, as a whole – containing an authentic and transparent translator's introduction, the creation epic itself, and a reader's companion – should be incorporated into every literary translation program, if I may be so bold. In fact, I plan to discuss your text with my undergrads. This is largely because of your faithfulness to the original in a palpable way, one that reflects the truth that literature is a product of the human experience in a holistic, not solely or even mostly cerebral, way.
You write, "To help echo the cadences of spoken K'iche', with its husky consonants spoken deep in the throat and its marvelously sinewy music, I favored Anglo-Saxon roots over Latin when possible." Might you please share a specific example of this from the text?
MB: Here's one passage that came quickly to mind, from "The Story of the Father of Hunahpu and Xbalanque": "Then come the lords / Bone Lance and Skull Staff / who bear the scepters of Xibalba. // Their staves are merely bone. // These are the staff bearers / who skeletalize a body: / they strip away the shreds of flesh / until someone is bone and skull / and dies an emaciated rack / with a bloated belly."
I think the old English/Germanic staff & stave resonate a lot differently than scepter here. The scepter implies symbolic power, but when it comes to the strip away the shreds of flesh, stave is a better word, with its echo of stab. When you're in an underworld as visceral as Xibalba, though, there's a lot of skull and bone, which is why I settled on the more clinical emaciated, even though its Latinate. It not only calls to mind a vivid image, it also offers a nice contrast, sonically, with bloated belly.
HL: Thank you, Michael. I think I'm ready to ask you the question about which I'm most excited, the one that lead me to set up this interview in the first place. In your introduction, you write that "When the K'iche' verb has a particular resonance, difficult to capture in English, I attempt to bring that to light via metaphor." You "use an image to bring flavor to the verb." You were generous in offering one example in the introduction, but I suppose I'm feeling a bit greedy and want more. Might you please share one or two more examples?
MB: Well, there's a moment right at the beginning of Part Two that springs to mind, where there is a shift in temporal point of view, and I ended up doing the reverse: I put the verbs to work in an attempt to capture the image.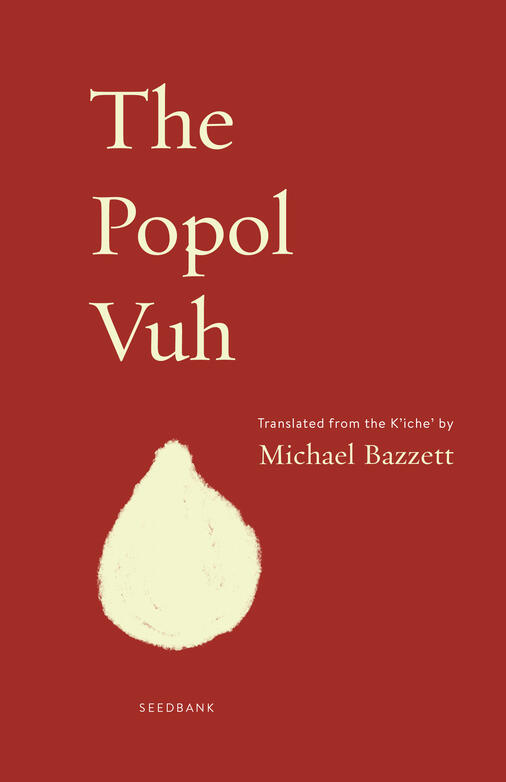 In the passage, we have arrived in a time where a failed draft of humanity, the false people made from figures of wood, are looking to a false god, Seven Macaw, who has set himself up as a false sun.
The text is clear, "There is no sun." Yet somehow there is light, and it is apparently faint and dusky. Christenson, in his notes, said that his translation was based on the K'iche' word natatic, which refers to the first faint rays of light at dawn. Domingo Basseta, in his 17th century K'iche' lexicon, compares it to the dim light cast by the moon. I loved that notion of light emanating, somehow, with no discernable source, as from a reflection or beyond a horizon, and so I followed the lead of the K'iche' "Xa kamoymot u wach q'ij, ik'" which translates as "Merely it is dim its face sun, moon" and came up with "the sun and moon / merely flickered in clouds." And then borrowed that idea "it is dim" and used it as a verb to open the passage, so that it reads:
All this was back when light
barely dimmed the air with early dawn.

There was no sun. …

Sky and earth were there
but the sun and moon
merely flickered in clouds.
My hope is the image of light "dimming the air" with dawn evokes the liminal, paradoxical twilight we're inhabiting – which recalls a question I wondered about as a kid, reading Genesis. Given that light was created on the first day, what form did that light take, and what was it doing, given that the sun and moon and stars weren't created until a few days later?
HL: Michael, does K'iche' incorporate articles? Please let me frame this question more specifically. The question came to mind as I read the first two stanzas of the epic's preamble:
The root of the ancient word starts here,
the root of this place called K'iche'.

Here we will write. Here we will plant
the ancient word of the beginning,
the origin of all that was done in the citadel
of K'iche', among the people of K'iche' nation.
The article "the" appears several times in these six brief stanzas, and there's something about the stoic singularity of it that draws me into the world. Largely because of these first six lines – as well as the continued repetition of the anchoring word "here" in the following stanza – by the end of the first page, I forget about other creation myths and, at least on a conscious or critical level, the ways they might have colored my absorption of this story as the beginnings of the world.
MB: K'iche' doesn't use articles. For instance, the section you quote above, in Allen Christenson's literal translation, (which served as the scaffold for my work), would read as: "This its root ancient word / Here K'iche' its name. / Here we shall write, / We shall plant ancient word, / Its planting, / Its root-beginning as well, / Everything done in Citadel K'iche', / Its nation K'iche' people."
Already, we are confronted with plenty of choices, yes? In part, I ended up using those articles to establish a cadence that I hoped to use, a rhythm I felt. I use the word "here" in a similar way, hoping to root us, as readers and listeners, to the land – the image of planting a word as a seed is so evocative! – and also to draw us as readers into the here and now. The creation story that follows is in the present tense, an immediacy that I love, as the creation of the world is always happening as an ongoing thing, just as stories unfold in the eternal present, every time we hear them.
HL: You mention that the weaving of the narrative resembles, in many ways, postmodern literature. The movement that repeatedly comes to mind as I read The Popol Vuh is surrealism. "In Hunahpu and Xbalanque in Bat House," we read the following about the journey of two heroic twins:
The twins were meant to meet their end
as soon as they walked inside,

but they crawled inside their blowguns
and that is where they went to sleep.
Approached literally, this is an illogical scene, yet it tells us so much about these heroes in terms of their intellect, their brains over brawns, if I may. I love visualizing these stanzas.
Michael, of the many challenges with which the hero twins are faced in Part Three of the epic, which is your favorite, and why?
MB: I love that scene as well. The fluidity embodied by the twins, their playfulness, their ability to sleep peacefully while threat lurks all around them. Which is probably why I'm so fond of the cigar scene, when the lords of death test the twins by commanding them to smoke cigars and the twins enlist fireflies to create the impression that they're toking all night long, yet in the morning, the cigars remain perfectly unconsumed.
HL: And do you have a favorite twin? I suppose we aren't supposed to play favorites, and that one of the premises of The Popol Vuh is the necessity of collaboration and conversation in creation. However, I can't help but wonder. Did you find yourself drawn more to Hunahpu or Xbalanque? If so, why?
MB: There's a current that flows between the two of them, sometimes it pools with one, sometimes the other. So in the end, I've never fully settled on either twin. It would be like preferring the sun over the moon. Or vice versa. Unlike, in Gilgamesh, for instance, where my heart so profoundly goes out to Enkidu, given all that he needs to absorb to balance out Gilgamesh's oversized urges.
One thing that I think students find interesting, though, is that there's such a clear hierarchy – there's certainly no doubt about their roles – but there's also a profound sense of equilibrium and balance. It makes me think of the accidental perfection of an eclipse: even though the sun is thousands of times larger than the moon, sometimes the lunar silhouette is just the right size to block it out.
HL: Thank you, Michael, for allowing me the absolute pleasure of asking you so many questions. Please accept my sincere gratitude. If we may close with one more, may I ask which part of the Mayan Popol Vuh is your favorite to read out loud to folks, and why?
MB: That's really hard. I love the opening section, "The Beginning," and reading of the dawning of the first day is also wonderfully satisfying. The moment where the twins go the calabash tree and try to restore the skull of their father is also astonishing. I think, though, that I'll go with the moment when the twins have been reborn, "Hunahpu & Xbalanque Dance Before the Lords of Xibalba," where they're enchanting the Xibalbans with their ability to kill and revive things. It's miraculous and fevered and over the top, yet in the midst of it, there's a moment where they sacrifice a dog, and then revive him, and it says: "…and the dog was truly happy, / when they brought him back to life, // he nuzzled them and wagged his tail / once he had been revived." That moment, to me, captures something about the human and humane essence of the work, that sweetly mundane moment of a dog wagging his tail in the underworld, grateful to be alive.
| | |
Heather Lang is World Literature Editor at The Literary Review.
The Popol Vuh as translated by Michael Bazzett is available now from Milkweed Editions (Minneapolis, MN 2018)